With Illumination Pyrotechnics you are in the safe hands of a reliable and trustworthy company who can meet all your individual needs and demands.
At Illumination Pyrotechnics we are constantly striving for perfection. All our events are carefully planned and performed to the highest possible standard. We provide excellent customer service and can include you in every step of the display. Contact us to discuss how we can take your event to the next level.
Here at Illumination Pyrotechnics we pride ourselves on our creativity. No two displays are ever the same and we can even cater to your specifications.
Our number one priority is the safety of everyone in attendance at your wedding. We will never consider firing a display that may be unsafe in any way. We diligently follow all laws and regulations by carrying out full site survey and risk assessments. Most importantly, we are covered for £10m combined liability insurance. In most cases, our company policies exceed the UK regulations and standards. This is the reason why we have never had an accident or injury at any of our displays. This flawless record speaks for itself. All our licensed pyrotechnicians are experienced and shoot fireworks on a regular basis, year-round. Although there is no legal continuing education requirement, we ensure that all our technicians are trained to the highest BPA standards and regularly kept up to date on their knowledge of safe practices.
Craig – Technical Director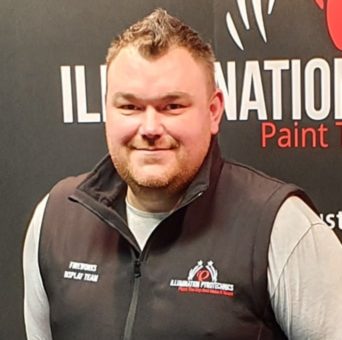 Craig founded the company in 2016 but has been working with fireworks and designing displays for over 10 years. His passion and technical skills are what sets him, and the business, apart. A quick chat with him is sure to get you excited about your display. As a family man Craig jumps at the chance to add sparkle to every family event. Any excuse to use fireworks and he gets more excited than the kids! Craig is hands on with every display, making sure that every customer gets the very best we have to offer no matter the event. He is totally dedicated to providing the perfect display for each client. Put simply: Craig eats, sleeps and breathes fireworks!
Jenny – Creative director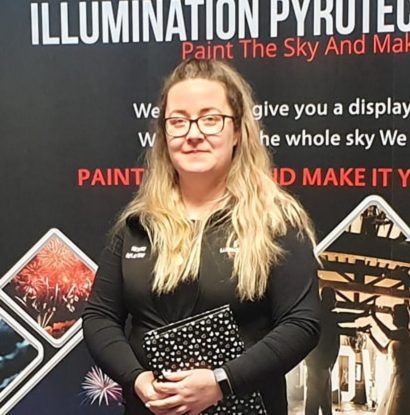 Jenny is the brains behind the operational side of the business. She takes care of the admin but, more importantly, is our link to you, the customer. She is on-hand to make sure everyone gets the very best from the experience. Jenny also gets her hands dirty. She assists in the design and setup of all the displays, often adding the female touches and remembering those little details that the guys do not. Keeping everyone focused is an important part of her job. From making sure all safety guidelines are being followed, to positioning the crowd and photographer, she has a hand in all aspects of the display, ensuring they go off without a hitch. Jenny loves fireworks and, being a bonfire baby, they are part of who she is!
Still don't believe us? Check out our outstanding reviews below.
Get in touch with us…
If you have further questions about our services, please don't hesitate to contact us directly or visit our contact page.
"I am over the moon that we found these guys to run our display. They have knowledge and enthusiasm about what they do and this showed from our 1st meeting where they put a personalised plan together for us to the end of our display where they take all rubbish away with them. The display itself was out of this world and received a huge round of applause at the end. If I could score them 6 stars I would! If your thinking of having a display arranged look no further, you have found the best! We have already booked our event for next year with them! Top marks for a top set of people from all of us at Middleton St George"
Carl Mafham
Middleton St George Cricket Club
Our Passion & Testimonials
Our passion for providing an amazing service, which establishes many happy memories which last a lifetime for our customers, is evident in our reviews.
If you're looking for fireworks displays… look no further. WOW is the only way to describe the firework display that Craig and Jennie put on for our wedding. We got married at the Yorkshire Wedding. Click to read more…
Our wedding fireworks were absolutely out of this world! They definitely made the day for us and the length and intensity of the display were brilliant. To top it all off, the customer service we received from Craig and Jenny before the wedding and Jenny on the day was excellent.
The firework display that was put on was amazing. We had a ten-minute spectacular performance at a fantastic price, which was attended by over 2000 people. I'd recommend this company to anyone looking for a professional yet personal service.